Single Malt Whisky from the Isle of Jura. Off the West Coast of Scotland lies a magical island with whisky distilling at its heart - The Isle of Jura. The mystical landscape, the abundance of myths and legends surrounding Jura, and the eccentricity of the island all go towards making Jura a mystery that fuels inquiry and discovery. Beautifully crafted from only the finest malt, pure spring water, soft sea breezes and generations of tradition, the Jura taste experience is distinctive from all other Island malts - a diversity of lighter and more delicate elements through to the profoundly peated Prophecy.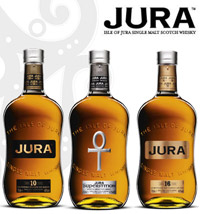 Profile
Nestled off the west coast of Scotland, the Isle of Jura, home to the Diurachs the inhabitants of the island, is a place rich in legend yet shrouded in mystery.
A place where good fortune holds a bewitching grip over the islanders, and then three highly distinctive Paps of Jura cast a long and foreboding shadow over the landscape.
A magical haven where a sense of solitude is all-pervading: one road, one distillery, one community. There is no whisky and no island quite like Jura. It truly is in a world of its own.