Tito's Handmade Vodka is America's Original Craft Vodka. In 1995, Bert "Tito" Beveridge obtained the first legal permit to distill in Texas and created Tito's Handmade Vodka. Even after getting the permit, it was an uphill battle for Tito – he took out 19 credit cards to fund the construction of the distillery as well as building the pot-stills required to distill his Vodka.

Tito's Vodka is batch distilled using old-fashioned pot stills and corn as a base rather than wheat. This results in a naturally Gluten-Free Vodka. Tito's Handmade Vodka is distilled and bottled in Austin, Texas on the very same land where the whole venture started over 20 years ago, and each batch is still taste tested by Tito himself to ensure Tito's award-winning quality is maintained.

Today, Tito's Handmade Vodka is one of the most successful microdistilleries out there and remains one of the purest spirits available.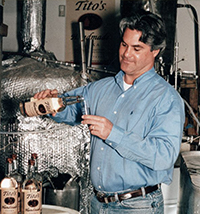 Profile
Tito Beveridge is a completely self-taught distiller and relied on prohibition-era images of pot stills and lore from the oil fields to figure out how to do it. After trying all kinds of bases, he settled on corn because of the soft, rounded shoulders and smooth, crisp finish it gave his vodka. Distilling from corn also makes Tito's Handmade Vodka naturally Gluten-Free. The water used in Tito's Handmade Vodka is locally sourced and much of it is naturally filtered through limestone.