Established in 2001, Waipara Hills has a proud history of creating award winning wines that celebrate the South Island of New Zealand. Waipara Hills champion the land, its wine, hospitality and its people.

Their winemaking style is about crafting perfect harmony between the vineyard and winery, encouraging the characteristics of each season's fruit to shine. The result is wine that is rich, textural and bursting with complex flavour. From the vineyard to the winery, their team are hands-on in perfecting their craft, pouring a little of themselves into everything they do.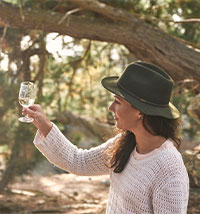 Winemaker Profile
Andrew Brown - Winemaker, Waipara Hills

Andrew's love of the land started from a young age; his first taste of harvest was cropping the swedes on his family farm in Waitahuna, South Otago, at the tender age of six. On the winemaking front, Andrew has worked in Alsace, Oregon, Central Otago and Marlborough. Even with many harvests under his belt, he still thrives on the thrills and challenges they deliver.

"Trialling winemaking techniques and learning from these is what I really look forward to. As well as working with new vineyards and ferments….. as long as they behave themselves!"