Every bottle of Flagstone wine is a journey with many twists and turns. It can never be hurried and there are no short cuts.
Step by step this fanatical dedication guides the team to the journey's end: the rewarding taste of delicious, distinctive wines. It's a painstaking approach that has won more than a few awards. And, more importantly, a legion of wine lovers who savour the unhurried quality of Flagstone.
Take time to discover these wines - Trust your taste.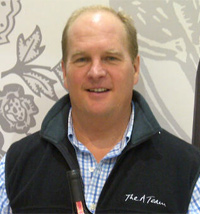 Winemaker Profile
Bruce Jack (winemaker) - A Capetonian whose curiosity and palate has taken him the length and breadth of the globe.
Bruce completed his undergrad in Political Science and Literature at UCT and then read his Masters in Literature at St Andrew's in Scotland. His subsequent winemaking degree came from the Roseworthy Campus at the University of Adelaide, Australia. Bruce is a pioneer, and in many respects a maverick, and what he brings to winemaking is an articulate opinion about his greatest passion.