The winery was first established in 1873 in Barrancas, Maipu by Sami Flichman, a Jewish immigrant of Polish origin. He was a visionary pioneer, who planted vineyards on the dry and rocky bed of the Mendoza River. Today, the winery has been around for over 100 years. Producing award-winning wines that are recognised around the world, no wonder Finca Flichman is able to reach some of the most demanding markets and still continue to grow - year after year.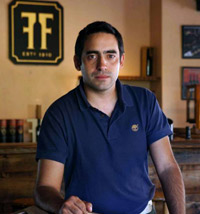 Winemaker Profile
German Berra is the Chief Winemaker at Finca Flichman, and an Agronomist Engineer and Oenologist graduated from Universidad Nacional de Cuyo, Mendoza, Argentina.

His broad experience includes fifteen harvests in the U.S.A., France and Argentina. His major challenge at Finca Flichman is focused at identifying and exploring the different micro-terroirs that assure the maximum quality potential in wines.