The Pelizzatti family founded Chakana in May 2002 reviving an old family legacy. As the descendants of Giovanni Pelizzatti, an early 19th century pioneer winemaker in Mendoza Argentina. Chakana is a winery dedicated to the study and understanding of some of the best terroirs of Mendoza, Argentina. Chakana develops the concept of estate wines, making them in the same place where the grapes are grown. This complete integration between agricultural and oenological practices, results in superior expression of fruit driven and balanced wines. Its goal is to produce authentic wines to express the character and identity of the Andean soils.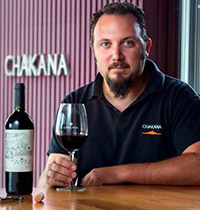 Winemaker Profile
Juan Pelizzatti - Founder and Managing Director; and Carla Pelizzatti - Marketing Manager. Four key concepts have defined the family and the team that joined Chakana: devotion for wine, dynamism, social commitment and reliability. These words just speak for themselves: "We want to make sure that you enjoy our wines with the same pleasure we enjoy producing them".
Their work and devotion have driven Chakana to be awarded "Best Argentinean Red and Best Malbec in the World" - by the International Wine Challenge, 2007 (UK). Chakana has become a modern representative of Latin American viticulture and wine business. - fruit driven, balanced wines - Enjoy!