DISCOVER TRUE ENGLISH GINS
Unlike other gins distilled today, our full range of True English Gins are produced just as they would have been when our family first started distilling over 150 years ago.
Every one of the Haymans gin benefits from a traditional two-day process – just as they would have in 1863, allowing the flavours to develop and marry before the gentle heat of the small-batch copper pot still is introduced. Every gin is distilled to a family recipe dating back over 150 years for absolute integrity of flavour. Every gin is distilled using 100% English wheat, prized for its neutral character that allows the botanical brilliance to shine through.
Where other brands have modernised their approach, we have chosen to showcase through our range the traditional distillation approaches and period recipes that are intrinsic to the style. We believe this is how all true English Gin should be made.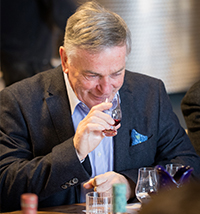 Profile
Christopher Hayman believes it is the careful and consistent balance of Juniper, Coriander, Orange and Lemon peel which is vital in crafting a classic style of London Dry Gin. The Hayman's Gin recipe consists of ten natural botanicals handpicked from around the world which creates a fresh crisp and elegant flavour.
Christopher believes Premium Gin should be created in a traditional Pot still to enable the flavours of the carefully selected botanicals to develop to their full potential and allow the Master Distiller to handcraft a uniquely flavoured premium gin with care and attention.