The Barossa, thanks to its freedom from Phylloxera, is home to some of the oldest, dry grown vines in the world. By identifying some of these pockets of low-yielding "gold" and securing the harvest from them through share farming, resulting in the very best fruit for Torbreck wines.
A love of Rhone Valley wines from France has led Torbreck to base its focus around the classic varietals; Shiraz, Grenache and Mataro (Mourvedre), which are suited to of both the Barossa Valley and the Rhone Valley. At Torbreck we love the intense, rich, Rhone-like flavours that come from old Barossa vines, particularly Shiraz and Grenache. Further selection of wines avaliable on request.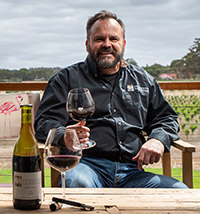 Winemaker Profile
Even though Craig Isbel (head winemaker) loves a great bottle of red as much as (and probably more than) the next bloke, his real passion is not the search for the greatest vintages, the greatest grape varieties or the greatest regions in the world.
Craig's passion lies deep in the cellar climbing over dusty barrels with a siphon hose in one hand and a wine glass in the other. He loves being up to his neck in grapes with the vibrant aromas and colours of vintage surrounding him. He loves the characters that he meets along the way, from the grumpy old grape grower to the enthusiastic French intern. Craig can't help but be happy in the winery, especially when a glass of Run Rig is just a siphon hose away.