The Petaluma story is about distinguished vineyard sites and meticulous attention to detail. Petaluma was founded in 1976 with the sole objective to produce ultra-premium wines by carefully selecting the best sites within a particular Australian region suited to a chosen variety, thus creating the concept of Petaluma's 'Distinguished Sites.' This is their 'distinguished vineyards' philosophy. This pioneering attitude towards responsive and instinctive viticulture and winemaking is as uncompromising and true today as it was more than 35 years ago.
The wines of Petaluma are a singular exploration of this founding belief. Through trial and building of expertise, Petaluma has evolved and is regarded within the industry, as a crusader of the modern Australian wine industry. Petaluma has developed a prestigious reputation over the past four decades with five star awards and Langton Classifications.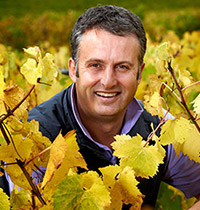 Winemaker Profile
Andrew Hardy is a highly respected Australian winemaker who has been at the helm of Petaluma since 2004 with more than 35 years experience including vintages in California, Oregon, and Bordeaux. Known for his elegant winemaking style and engaging manner, his vision is to craft wines of longevity and charm that are a true reflection of the beauty of Petaluma's remarkable vineyards.