Hardy's is a family wine company, established by Thomas Hardy in 1853 after emigrating from Devon, England. The great Thomas Hardy legacy lives on today through five generations of Hardy family involvement, overseeing expansion into new Australian viticulture regions, winemaking advances and global distribution. Somewhere behind each of Hardys wines lingers the spirit of Thomas Hardy. Hardy's Wines are today under the custodianship of its fifth generation, William (Bill) Hardy.
Thomas Hardy originally launched 'Oomoo' in 1870, named using the local aboriginal word for "good". The brand was long forgotten until 2003, when a special edition was made available to celebrate their 150th birthday.Originally planned as a one-off, commemorative release, Oomoo was so popular that it has now become a much-loved, permanent member of the Hardys family of wines.The range boasts a total of 148 medals won since its relaunch in 2003.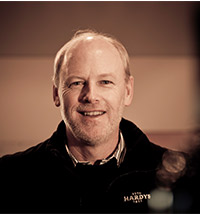 Winemaker Profile
Chief Winemaker, Paul Lapsley, is the 19th Chief Winemaker and, like all his predecessors, his mission is to fulfil Thomas Hardy's vision. His dedication and passion for winemaking ensure that all of the wines continue to push the boundaries of viticuled whilst maintaing the high quality of wines for which Hardy's is famous for.