Grant Burge Wines was established by Grant and his wife Helen in 1988, and is located in the heart of the Barossa Valley. At Grant Burge wines, they believe the diversity of the terroir, plus the Mediterranean climate of the region, provide the perfect environment to make an award-winning range of premium wines. As a fifth-generation Barossa vigneron, Grant spent his boyhood immersed in the wine industry, watching his father and grandfather build respected wine businesses and learning traditional winemaking techniques. Grant believes if the right varieties are grown in the right soils, and vines are managed, the natural result is the best wine.
"I am a romantic, and I have a real sense of my family history, of my father and grandfather, and what they achieved. This business is in my blood. I have a strong winemaking heritage and I want to hand down my knowledge. I believe in preserving and maintaining our Barossa legacy and tradition to make sure my young winemakers understand how to make top wines into the future." Grant Burge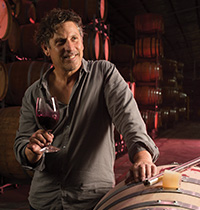 Winemaker Profile
Craig Stansborough, Chief Winemaker Grant Burge Wines.

Craig joined Grant Burge Wines in 1993 as Cellar Manager and was soon promoted to Assistant Winemaker in 1994, Winemaker in 1995 and Senior Winemaker in 1997, with his meteoric rise within the company being due to his enormous talents, leadership, inquisitive mind, and his unrelenting passion for winemaking.

Craig must be acknowledged for his contribution to some of Australia's most respected wines – Meshach and the highly regarded Filsell and The Holy Trinity. He is justifiably proud of their development and with his close working relationship with Grant, has crafted a solid reputation for excellence and conveying the true values of the Barossa.