Located in South Australia, on the banks of the River Murray, Banrock Station wines have been produced and sold globally since 1996. Purchased in 1995 in a joint partnership with Landcare, the main purpose was to restore 2,500 acres of wetlands. Committed to the conservation of the environment, Banrock Station has re-invested more than AU$6 million to more than 130 projects globally. For the past 4 years, they have been funding research, to help WWF protect turtles in the iconic Great Barrier Reef. Banrock Station's passion for conservation is only matched by their passion to produce fine wine. Embracing well-loved traditional styles and innovations, the range offers bold, flavoursome, easy drinking wines, produced from excellent fruit.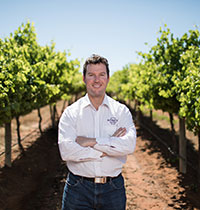 Winemaker Profile
Chief Winemaker, Paul Burnett.

Paul Burnett is a South Australian local, completing his Bachelor of Agricultural Science (Oenology) at the University of Adelaide. Paul has travelled extensively throughout the Californian wine regions and gained valuable experience with Blackstone winery in the USA, specialising in small scale premium winemaking.
Since 2004, Paul has been making wine from his base in the Riverland, South Australia. Paul has a strong passion for the South Australian Riverland region which he believes is at the forefront of innovation and research across viticulture and winemaking.